Surveys are a series of questions presented to your audience in succession. Surveys are a great way to gain deeper insights from your audience and ensure your questions are asked in a particular order.
Create and launch a Survey in seven easy steps:
Step 1: Click the Create Action tab on the left-hand navigation panel. Click Survey from the Action menu.

Step 2: Enter a Title and Description for your survey. These are respondent facing and the first thing respondents will see before taking your survey! Click 'Next' when done.
Step 3: Next is the Audience Page. Here you will add the number of desired respondents, along with any necessary targeting, retargeting, and quotas. More details on targeting, retargeting, and quotas, linked here.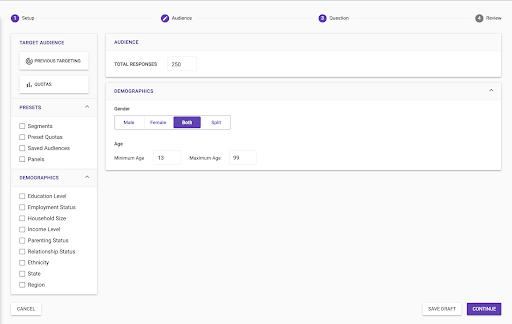 Step 4: Click Next to begin programming your survey.
Step 5: Choose your question types, and add them to your Survey one at a time. You can also clone questions within the same survey by pressing this icon (
) next to the source question.
Step 6: Once your questions are entered, you can drag and drop them to change the order. You may also Add Logic to retarget previous questions and answer choices within the survey. More details on adding logic here. When finished adding questions, click Next.
Step 7: Step 7: In this review screen, check on the following before launching your action:

Set your email notification preferences

Specify duration of your survey

Set your response cap

Add tags

Check your credit utilization summary for your survey
When you're ready, click Launch Now!