Welcome to Suzy Live! Suzy Live is an end-to-end qualitative research solution that allows you to interview and speak directly with our network of screened and verified consumers. Suzy Live supports in-depth interviews and focus groups! Both of these offerings enable Suzy clients to get a deeper understanding of the consumers you care about the most.
Suzy Live can be useful for a variety of use cases. Whether you want to test a concept, do whitespace discovery, understand your target consumer, or get packaging feedback, our team is here to ensure you get the most out of your projects. Connect with your Suzy CSM to chat through how you can use Suzy Live to achieve your research goals.
Why do video interviews?
It's critical for brands to get qualitative insights to understand the "why" behind the "what" of their quantitative research.

Current qualitative research & IDI offerings are expensive, time-consuming, and inefficient.

In-person focus groups aren't an available option and who knows what the new normal for qualitative research will be post-COVID.
Why Suzy Live?
We handle the logistics. Don't worry about scheduling, incentives, or any of the logistics. You tell us your target audience and your schedule -- all you have to worry about is showing up when the calendar invite tells you!

A survey isn't the end. Iterate even more. Dig deeper into an idea via robust qual prior to running a quant survey, OR layer on qual research to validate your point and bring it to life as you sell your idea in.

Get insights sooner. Brisk through your interview analysis and zero in on moments that matter to paint a more vibrant story with easy-to-use transcript search and explore capabilities.

Screen share to show stimuli. Showcase new ideas, products, packages, and ads to gather robust qual feedback.

Flexible for any level - you moderate, or we can! Do you have moderation experience? Great! Have you never done this before? No problem, we've got you covered either way.

Backroom chat to communicate with the moderator/others in the backroom of the interview.
Common Questions
How long does it take?

We can have interviews/focus groups scheduled in as little as a few days, or space them out over a week or two.

What is the difference between an In-depth Interview (IDI) and a Focus Group?

IDIs are 1-on-1 interviews with a single participant, while focus groups are group interview sessions that typically have 4-5 participants at a time.
What does the process look like?

Once you let us know your screening criteria, we handle the rest. We will recruit, screen, schedule, provide incentives, and send the recorded videos after the interviews are completed.
How many should I do?

This depends on whether you are using in-depth-interviews (IDIs) or focus groups. For projects using IDIs, we recommend 10-15 interviews per project, each 30 minutes in length. For projects using focus groups, we recommend 3-4 focus groups with 4-5 participants, each 60-90 minutes in length.
What if I don't know how to moderate?

No problem! We can layer on moderation and analytics services for additional cost.

I'm stuck between IDIs and Focus Groups- which offering would best suit my project?

We're glad you asked! Below is information that can help you make the best decision for your project. Generally IDIs are better suited to gaining deeper insights and projects that may contain sensitive information. Focus groups are better for gathering broad insights and allowing participants to interact and bounce ideas off each other.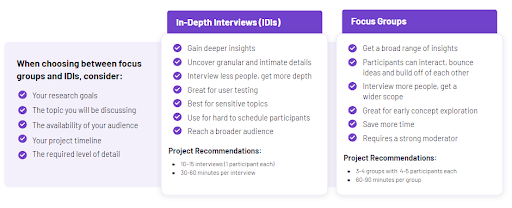 Want to learn more about Suzy Live? Contact the Suzy team!