To use the feature follow the below steps to get your project started!
How do I launch my study?
Using quick launch or the left side navigation, click "Monadic Testing".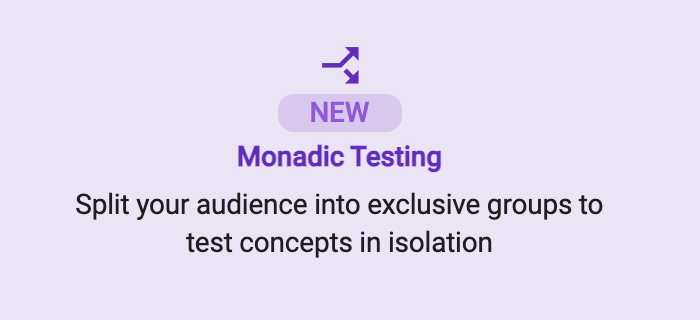 On the first screen you'll input the survey title/description as well as how many concepts you are testing (2-10) and the maximum number of respondents for the entire survey (1000).
Similar to our other actions - you'll set up targeting similarly.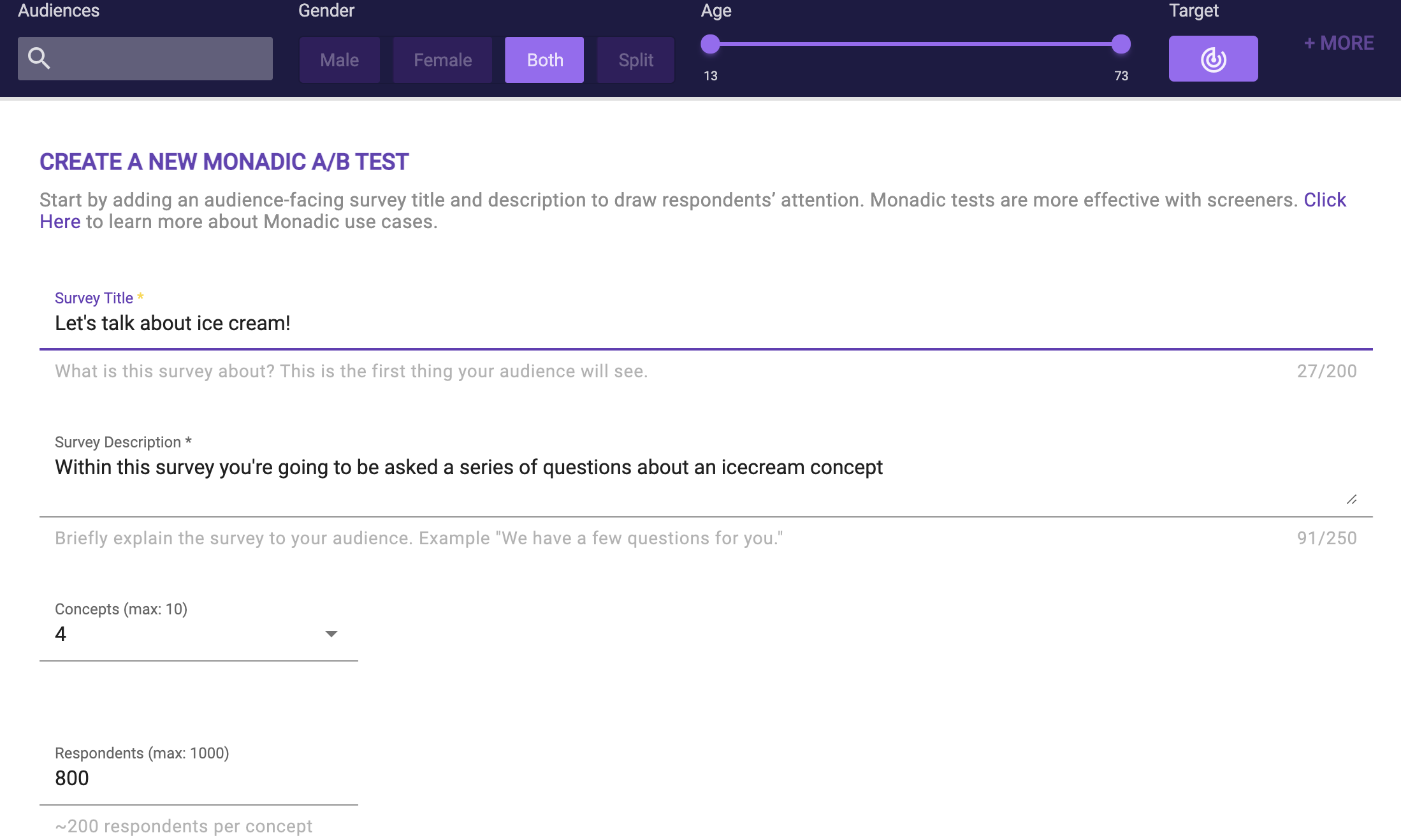 On the next page, you'll be able to upload your concepts as an image or a URL and assign internal labels to each of the concepts. These internal labels will not be shown to respondents but they will be available in your outputs to help differentiate between the concepts.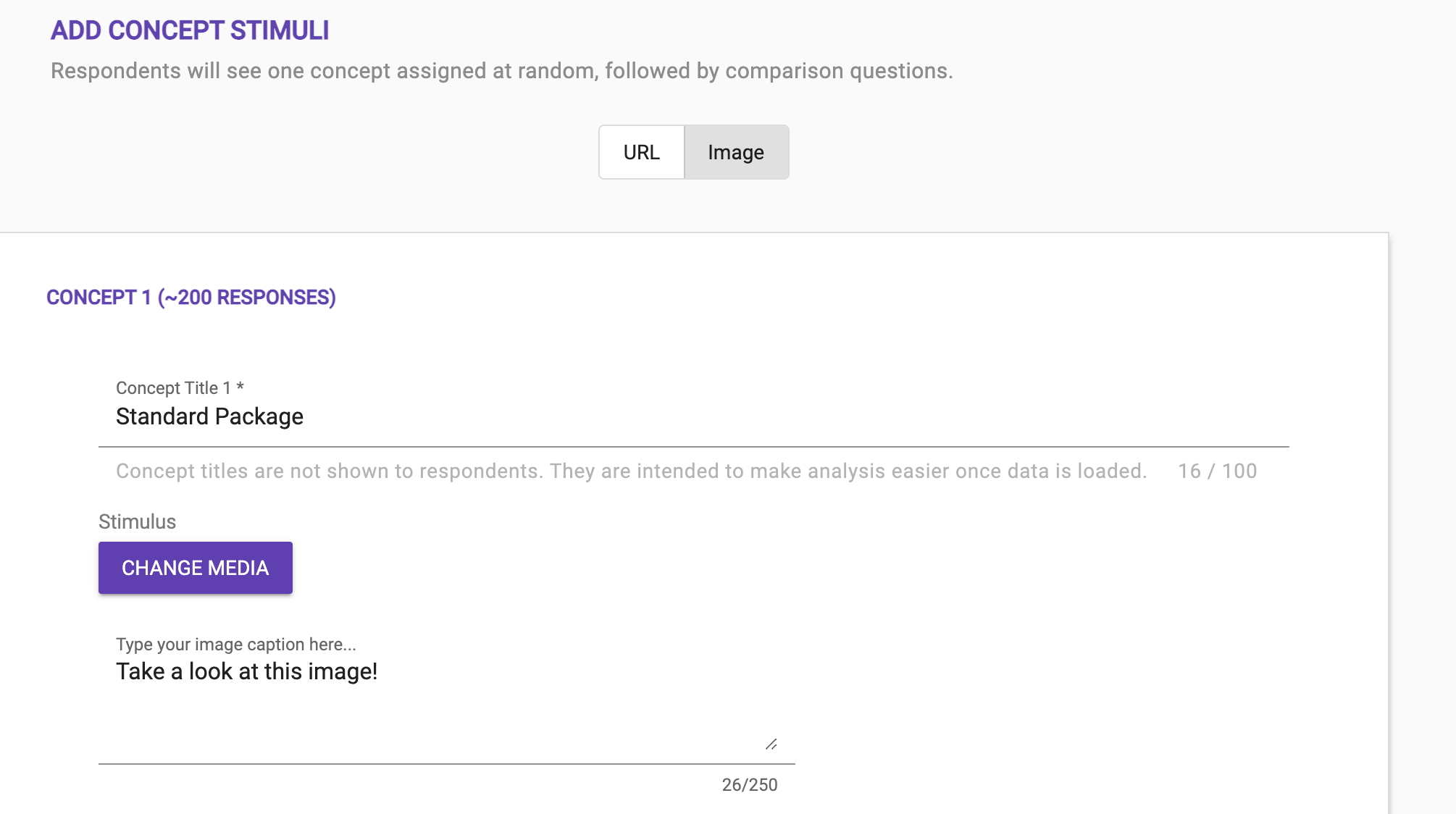 After your concepts are uploaded, you can begin to create your questions. With the monadic feature, your questions will fit in either the concept questions or comparison questions. Certain question types are available for concept questions or comparison questions.
Concept questions are questions where the concepts you uploaded will be visible for each question. These questions will be shown first in the survey. Each respondent will only see one of the concepts uploaded and will evaluate that concept only for those questions. This allows for statistical testing to be applied to the results.
A new question type is available for this section - Rating. This allows consumers to select on an answer choice on a scale. Rating allows for means to be reported.
Comparison questions will be shown to everyone regardless of concept. Once concept questions are completed, respondents will then see comparison questions. You can now show other stimuli / media for these questions.
When taking the survey, respondents will see concept questions first before comparison questions.
Questions types available per monadic question type:
| | |
| --- | --- |
| Concept Questions | Comparison Questions |
| Rating | Multiple Choice |
| Multiple Choice | Open Ended |
| Open Ended | Photo |
| | Rank / Scale |
| | Custom Grid |
Similarly to surveys, you can set-up in-step targeting. However, you can only set-up targeting within the appropriate groups. Comparison questions cannot be targeted back to concept questions.
Once your survey is set-up properly, go to review and launch!
How much of my allotment does it use?
Using the monadic feature only uses 1 set of your allotments. For example if you add 5 multiple choice questions and 1 open-end, the feature will only count 5 multiple choice questions and 1 open-end, regardless of the number of concepts.
What do the results look like?
Below are a few examples of the results. The results feature an overview of the concept's performance on rating questions at the top of the summary. Below the summary, you will see each question in chart form.
Raw, excel, and PowerPoint formats are available for download.
Total Performance
Concept Questions


Rating
Is featured in the Total Performance section as means (averages).
As individual questions, they'll be viewed as stacked bar charts.
Multiple Choice
Within platform you will see a bar chart broken out by concept.
In the PowerPoint export, a table will be created.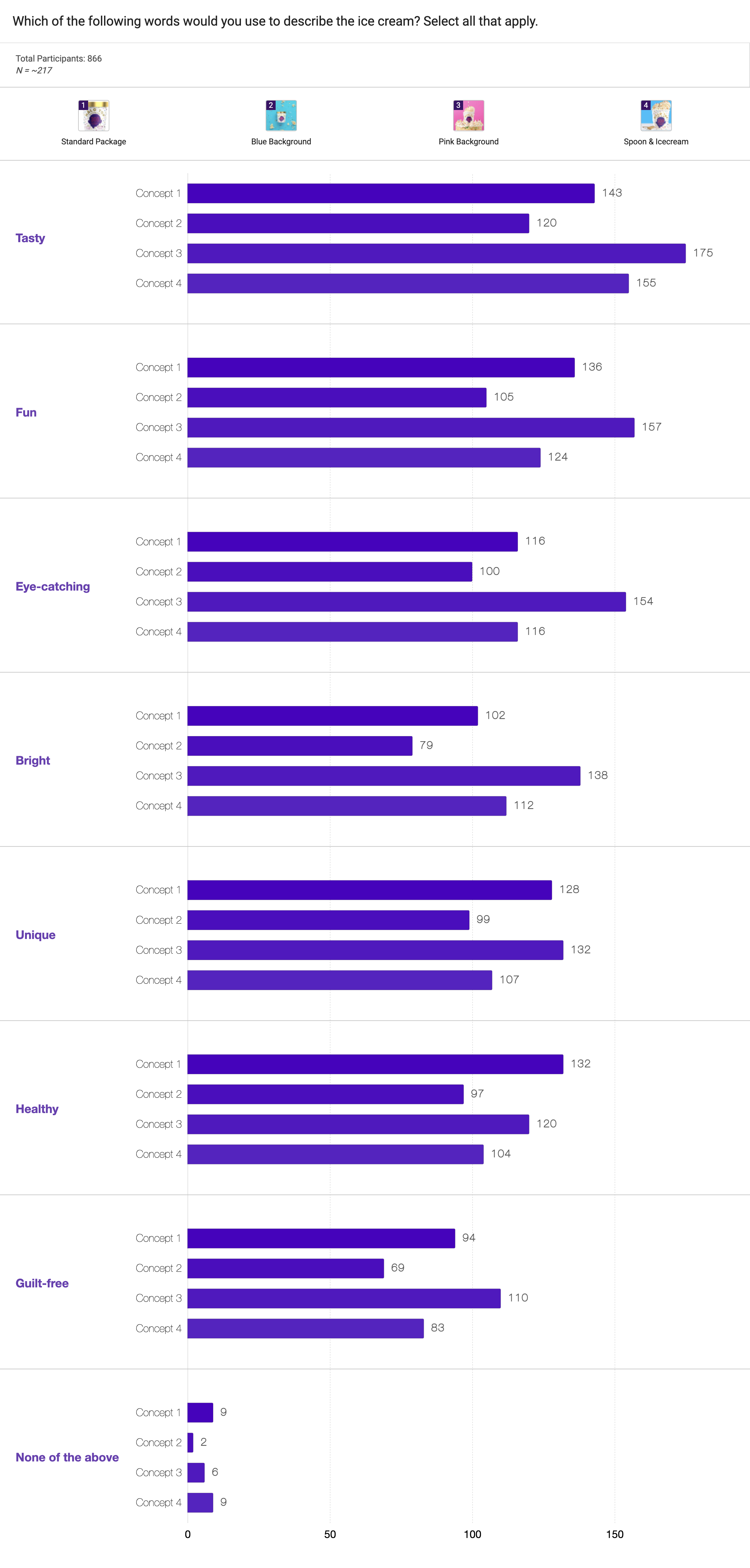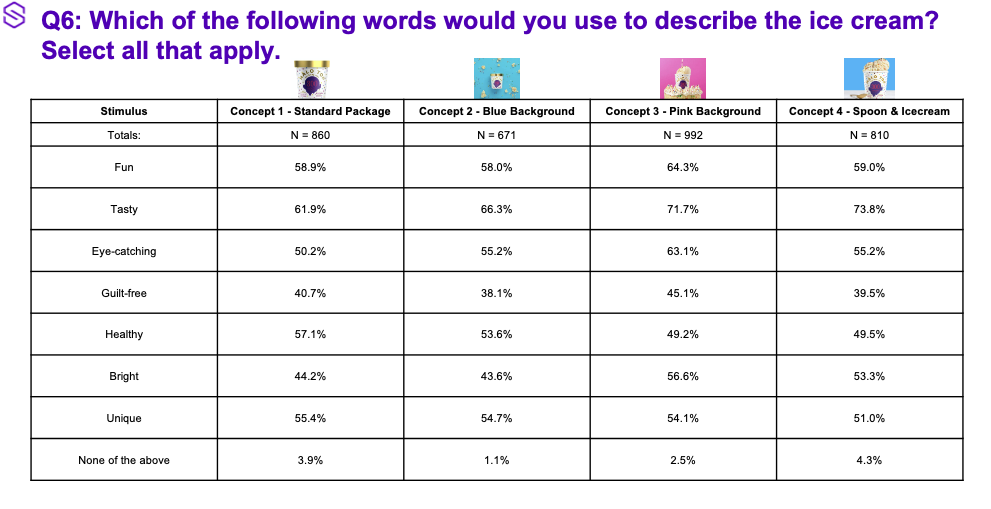 Open End
At the summary level, you can view the top 5 words by concepts.
Individual word clouds are available
In the PowerPoint export, you will have a bar chart of the top 20 words available in the data, only the top 5 are shown in the bar.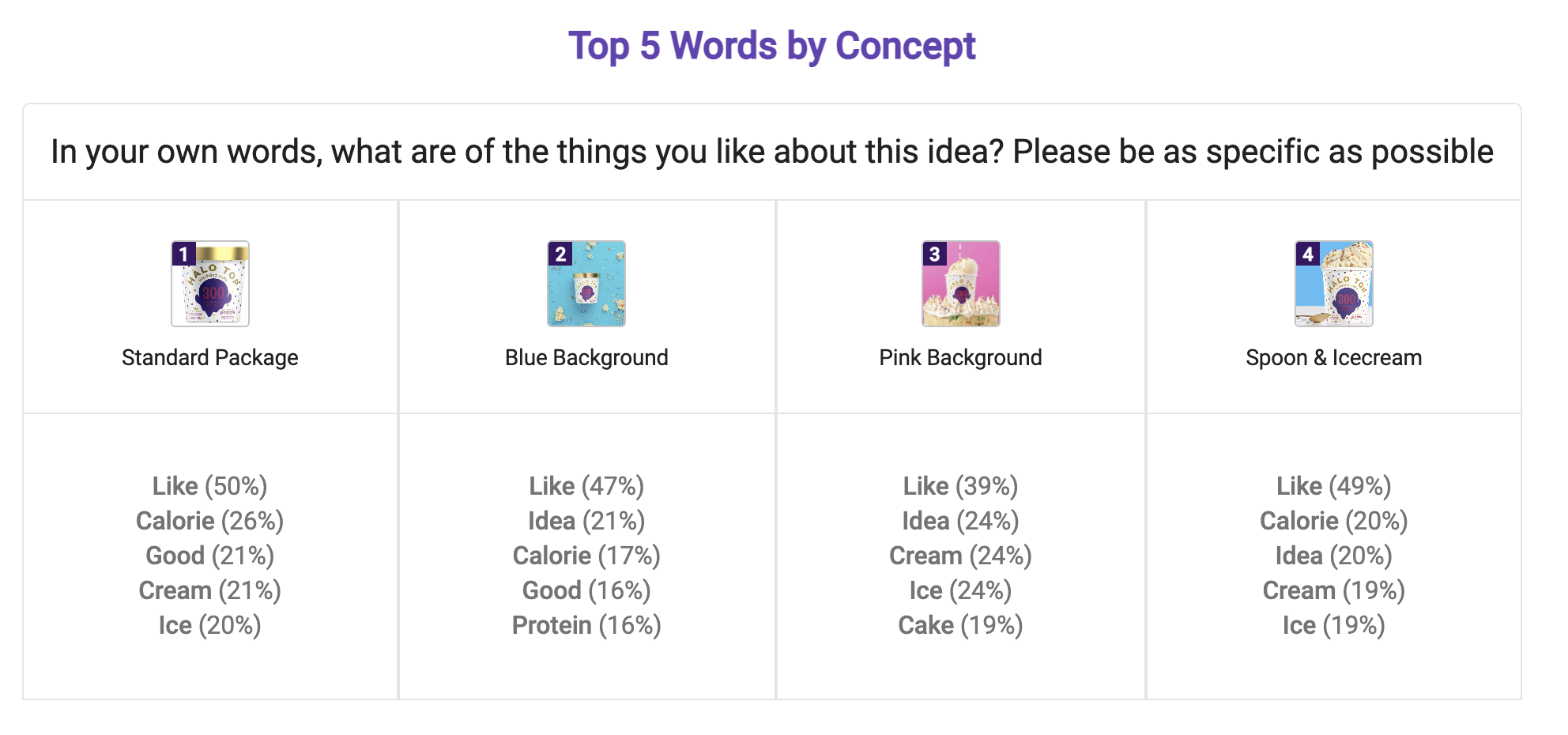 Comparison Questions
For comparison questions, the below question types will be displayed as it does for a regular survey. The data will not be cut by the concepts viewed.
Multiple Choice

Open End

Scale Grid

Rank Grid

Custom Grid